Most non-runners have a difficult time shopping for runners during the holidays.
Truth.
What in the heck could these crazy people (their words not mine) who spend hours upon hours running FOR FUN actually want?
Well, allow me to help you!
Save your friends and family the headache and send them a link to this blog post.
I know what runners want for Christmas, and it definitely isn't a fruitcake.
Gross.
No one wants fruitcake by the way.
No one.
Without further adieu…
I give you my 2015 Holiday Gift Guide for that CRAZY Runner in Your Life!
Garmin Forerunner 225
The 225 is the latest and greatest in wearable tech from Garmin. Complete with a built-in heartrate monitor (no more chest strap chaffing!) and an activity tracker that counts steps and calories burned throughout the day. This is more than just a running watch.
$299   Purchase at: Garmin.com

Nitebeams Running Hat
Know a night runner? Then the Nite Beams Running Hat will be their new best friend. It has 4 bright LED lights to clearly illuminate the trail during those dark night runs.
$30    Purchase at: Nitebeams.com

Runner's World 2016 Wall Calendar
Any runner who is anyone has this calendar! Inside the Runner's World 2016 Calendar you'll find: Smart workouts and expert training tips, leading-edge nutrition and injury-prevention advice, and inspiring quotes. It is perfect for any home or office and provides 365 days of motivation!
$15.95    Purchase at: Rodalestore.com

Rock n' Roll Race Series Tour Pass
Do you know an aspiring Marathon Maniac or a Half Marathon Fanatic? Help them achieve their race goals with the 2016 Rock n' Roll Race Series Tour Pass. With three options, this gift is sure to impress.
$219 TourPass 3-Pack: Run three 2016 Tour stops of your choice.
$449 TourPass North America: Run all 2016  North American Tour Stops.
$479 TourPass Global: Run any of the races in the 2016 Tour.
Purchase at: RunRockNRoll.com

New York Marathon Map
By far one of the coolest presents I have seen this year, the New York Marathon Map is a perfect gift for anyone who has finished the NY Marathon! Note: there is also a Boston and Chicago Marathon Map on the same website!
$28    Purchase at: UncommonGoods.com

Gone for a Run Wine Glass or Beer Stein
Who could think of a better way to celebrate your race accomplishments than with a cold beer or glass of wine? Not me, that's for sure. Pop open your favorite beer or bottle of wine and have a pour into a running inspired beer mug or wine glass! It makes the perfect gift for any runner.
$19.99 – $29.99    Purchase at: GoneForARun.com

Running on the Wall Medal Rack
Let's be honest here… one of the main reasons why we race is because of the bling. This awesome medal rack fashionably displays finisher medals for all to see and even provides a spot to list PRs and race bibs.
$29.99 – $59.99    Purchase at: RunningontheWall.com

RunnerBox subscription
RunnerBox is a fun and easy way for any athlete to receive a regular supply of useful products. Whether you're a runner, cyclist, triathlete, or just an active person, RunnerBox has a box to suit everyone's needs. Filled with a huge range of products, such as energy products, gels, chews, protein shakes/supplements, nutrition bars, skincare, & other fun accessories, boxes are delivered to your front door every second month.
$20    Purchase at: RunnerBox.com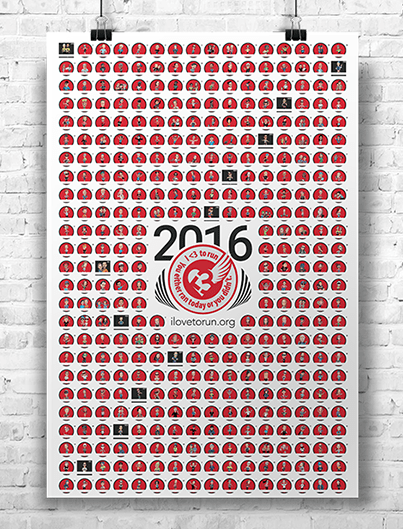 2016 ilovetorun Visual Calendar
Another personal favorite of mine, this visual calendar is a great way to keep track of how many out of the year were spent running! Need an excuse to get out the door? This calendar will do the trick!
$19    Purchase at: ilovetorun.org

Plantronics BackBeat FIT Wireless Headphones
How annoying are headphone cords? They are always flopping around and hitting you in the face! Not with these wireless headphones from Plantronics. The stable, comfortable BackBeat FIT wireless headphones provide all the power, safety features, and premium audio you need to stay motivated and moving, indoors or out.
$129.99    Purchase at: Plantronics.com
Happy Holidays and have fun shopping!
-RatherBeRunnin'