Hello and happy day to you!
On Saturday, May 7, 2016 I was the 2:30 pacer for the Santa Barbara Wine Country Half Marathon.
This was my first assignment for Beast Pacing and what a day it was.
But, I am skipping ahead a little.
Let's start at the beginning.
I arrived in rainy (yes, I said rainy… it was a weird day) Solvang the day before the race to  check out the expo.
Seriously… what the heck weather?!?!
The expo is relatively small, but there are some great vendors!
Stance, Kicking Horse Coffee, Camelbak, GU Energy and Newton Running were all there.
(Just to name a few)
After picking up my packet, taking a few pictures,
and looking like total DORK blogger…
I decided head over to a local winery to kill some time while I waited for my friend Julie to get off work.
Alma Rosa
Winery

& Vineyards is a beautiful tasting room located in Buellton and is also a sponsor of the race.

So I had to check them out.

Afterwards, I headed back to the hotel for get ready for the following day's activities…

And of course, I put together my usual pre-race #FlatAshley.
I showed up around 6:15 am to pick up my pace sign (2:30 pacer, baby!).
The line for the porta-potties was non-existent, which was awesome and highly unusual compared to most races.
Score!

My friend Heather (SLOLuckyRuns.com) was running the race too, so of course we had to take a selfie!
The weather was perfect… absolutely perfect for running and I was so excited to pace.
I stood at my designated spot prior to the start, and let the runners get ready around me.
As per usual, the course was gorgeous!
I mean seriously, if you haven't run this race before YOU.ARE.MISSING.OUT.
And I'm not just saying that because I'm an ambassador.
I am an ambassador BECAUSE I am obsessed with this race.
I am not going to give you the play by play- if you are interested in that read my review from last year (
here
).
But one thing I will mention, is that many of the runners I spoke to after the race said that the course was a lot hillier than they had expected.
The switchbacks from miles 6 to 7 are killers…
The hill in between mile 11 and 12 is rough…
But, it's all forgotten once you hit mile 13.
The crowd is cheering!
The announcer is screaming your name!
And of course, the WINE is calling.
Finish time: 2:29:17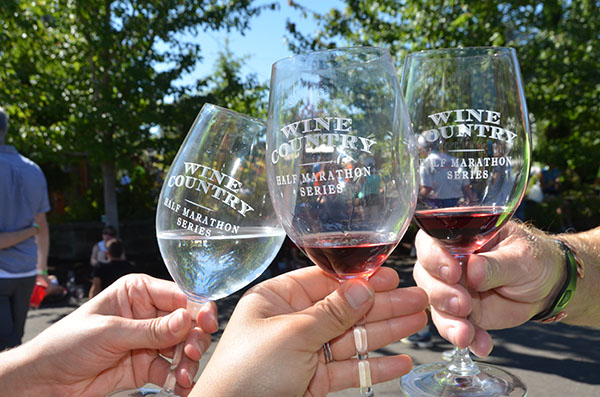 I have to send a shout out to both Destination Races and to Beast Pacing.
DR rrrrreeeeeaaaaalllllllllllllyyyy rolled the red carpet out for me and allowed me access to the VIP area.
It was a really special treat!
I will forever be LOYAL to this race because it is a fantastic event, and because they have been so good to me as an ambassador.
Check out the dates and locations of alllllll of the amazing races that Destination Races puts on.
LOUDOUN COUNTY, VA – JUNE 4, 2016
MCMINNVILLE, OR – AUGUST 13, 2016
WOODINVILLE, WA – SEPTEMBER 17, 2016
HEALDSBURG, CA – OCTOBER 29, 2017
KELOWNA, BC – SEPT 4, 2016
Annnnnnnnnnd save some $$$$$ when registering!
"DRAMBJONES" FOR $10 OFF ALL RACES EXCEPT KELOWA, BC
"DRAMBJONES2" FOR $10 OFF KELOWA, BC
And lastly, a thank you to Beast Pacing for allowing me to participate in this event as a Pacer.
Pacing is quickly becoming one of my favorite things to do, and is truly a life changing experience.
I LOVE helping people cross the finish line and motivating them to push themselves beyond their limits.
It is awesome!
As I said during my recap last year, I plan to run this race every year until my legs give out… so be prepared for a few more of these recaps over the years.
And that is all I have for this edition of the Santa Barbara Wine Country Race Review & Recap.
It's been real, it's been fun… it's been REAL fun!
See you next year Santa Barbara!
-RatherBeRunnin'
 Let's connect!