Hello and happy day to you!
As I prepare for the Rock n' Roll San Diego Half Marathon and 5k this weekend…
I have realized HOW MANY running rituals I have.
I have talked about how weird runners are in the past, and I am no different.
I am a total weirdo.
I definitely have my own set of running rituals and I do them religiously.
Who knows, you might as well!
 Let's dive in to this topic, shall we?
Let's!
First up issssss……..
#FlatRunner to the Max.
If you follow me on Instagram (If you don't, you should!), you have probably seen that I do a #FlatAshley before every race. I also set all of my food, post-race nutrition, bib, sunscreen, lotion, chapstick, anti-chafing gel, GU, shotblox, Nuun, hat, waterbottle and safety pins out the night before. It makes waking up at the crack of dawn that much easier.
Tracking the miles.
No joke… I log my runs into three (yes 3!) different trackers. I have a training journal that I manually track my runs and mileage into; it is the Believe Training Journal from Lauren Fleshman. I also track my runs in Garmin Connect and through a program called VDOT that my coach reads. Yes, its redundant and time consuming, but I enjoy seeing my data on all 3 platforms.
Over-hydrate and drink all the Nuun.
I am a self-professed Nuun-aholic. I drink Nuun all day, every day. Not that being electrolit on the regular is a bad thing, it is an expensive habit! I also have a 40 oz Hydroflask that I fill up atleast twice a day. But hey! All those extra trips to the bathroom equal extra steps on my Garmin… right?
A Strict Morning Routine.
 As I have mentioned in previous posts, I usually wake up at 3 AM on race morning because my pre-race routine takes a few (okay… 3) hours. I drink an enormous amount of coffee, watch TV and play on Facebook for an hour. Then I get my English muffin with peanut butter and honey ready, crack open a protein shake (drink half of it) and eat a banana. I sit around for another hour or so, and then I start getting dressed. Before I head out, I eat a few GU Chomps and drink a teeny bit of water. It takes forever, but it works for me!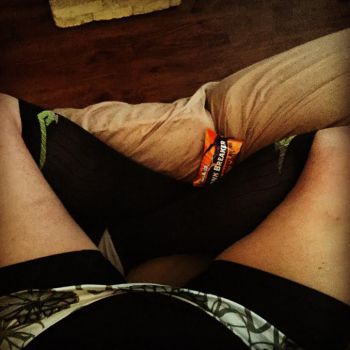 A special spot for allllllllllll the running things.
I run a lot (duh) so all of my running gear has to have its own spot. My gear bag hangs from the shoe rack, the armband goes in the hall closet, the running hats go in the cabinet in the living room, and the 2TOMs SportsShield & sunscreen go in the medicine cabinet in the bathroom. And (gasp!) what I forget to put something back in the right spot?!? My heart starts racing and begin to freak out that I lost it; as I did a few weeks ago, when my $125 Plantronics wireless headphones accidentally got thrown in the closet. Crisis averted!
Post-run stretching & foam rolling.
I have had a few injury scares since coming back from a severe running injury in 2013. Every single time something gets tight, I totally FREAK out. I blame the tightness to not foam rolling or stretching enough. Since then, foam rolling and stretching is a permanent fixture in my cool down routine. I also take my Addaday roller with me to every race. You are not going to catch me with a running injury, if I can prevent…. no sir'ee Bob!
Do you have a ritual that you want to share?
Comment below!
-RatherBeRunnin'
Let's connect!